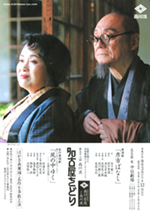 Dr. Kitajima has produced music for the annual Nagoya Odori performance this year and it was highly admired by critics.
Nagoya odori is the long-running Japanese traditional Buyo dance performance since 1945, and its history goes back even to Edo period. Original Nishikawa style Kabuki choreographer starts it and continues to current master, Ukon Nishikawa for about 300 years now.
A customary dance performance disappears one after another, Nagoya odori continues more than half a century, and it becomes the 58th times in current year. This years most highlight performance is "Kaze no naka yuku" which is produced by Osamu.
You will enjoy the collaboration of Ukon's amazing buyo dance and guest performer Eriko Watanabe's powerful elocution.
Also, Osamu's new idea of ambient dance beat and spiritual approach to string orchestra arrangement makes the very unique atmosphere to the stage.

The future reference.

http://nishikawa-ryu.com/58nagoyaodori/58nagoyaodoriINFO.html(Japanese)

http://nishikawa-ryu.com/(Japanese & English)